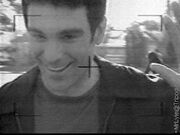 Hi! I love The Pretender and I'm still watching it in 2013 ofc. I also love: Vampire diaries, Dexter, The walking dead, The Listener, Chuck, h20, Teen wolf.
You see, everything I watch(tv shows) has at least a little bit of supernatural in it ;)
NoOrdinaryGirl
~Serbia, Belgrade(far away from The Centre :D)
love: languages, sports, psychology...
hate: being limited by plaster :/
My favorite pages      
etc ;)