Flyer is the third episode of the first season of The Pretender which first aired October 19, 1996 on NBC in the United States.
It features an appearance by recurring guest star Jon Gries as Broots and the first appearance of Richard Marcus as Mr. Raines.
Summary
While posing as a test pilot, Jarod tries to find out the circumstances surrounding the death of an Air Force lieutenant killed in a crash.
Recap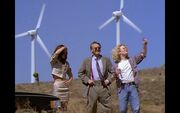 Sydney and Miss Parker drive to Baja, California to the Soledad Wind Power Research Area to follow Jarod's trail. Jarod has found a "natural heat vortex" area and then utilized it to make energy. Sydney tries to understand
the logic behind it to predict Jarod's next pretend.

Jarod in the meantime is high in the sky, flying a jet to get a job at Skyvionics in Arizona as a pilot and he gets the job. As it turns out he replaces a pilot, Ron Collins, who died in an accident that Jarod has decided to investigate.
Cast
Main Cast
Guest Stars
Terence Knox as Tom Matthews
Robert Cornthwaite as Mr. Hollis
Ray McKinnon as Lawson
Alex Wexo as Young Sydney
Ryan Merriman as Young Jarod
Gay Wilson as Lt. Janice Gant
Richard Marcus as Mr. Raines
Jake Lloyd as Ronny Collins

Gene Lythgow as Gary Dixon
Steve Wilcox as Kendall
Deanne Bray as Deaf Woman
Lillian Hurst as Bartender
Jay Kopita as Andrew
Adrienne Stout-Coppola as Lindsay Collins
Kelly Schmidt as Girl
William Wellman Jr. as USAF General
Pretend
Jet pilot - Jarod Wright.
Jarod's Discovers
Quotes
Related Links
List of The Pretender episodes at the Wikipedia, the free encyclopedia
Flyer at the Internet Movie Database
Pretender Episode 3 (Flyer) - Season 1 (The Daily Planet)